The dudes from Deep Ellum bring tacos and tequila to Allston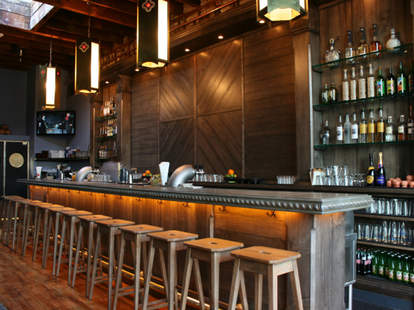 Eager to bring a little authentic Mexican to the Hub, the dudes behind Allston's craft beer/ cocktail HQ Deep Ellum have imported an entire cadre of polite midget luchadores annexed the adjacent (and now connected!) former El Cafetal and transformed it into a 52-seater slinging creative tacos and SoBo street fare alongside an extensive lineup of tequilas selected by hand to take to the face.
Tell everyone your brother is Ellum and that you already know about
The SpaceAn oval mirror, interconnected steampunk-styled ceiling fans, and antique brass lamps hang alongside a giant mounted bison head that silently judges anyone drinking Diet Fanta at the 25ft single zinc slab-topped maple bar, or on the reclaimed wood benches paired with industrial metal tables. Don't judge me, Bison!
Taco TimeGrilled street corn w/ Cotija, cilantro & chili lime aioli, Victory club nachos (dubbed the "original 1949 bar snack"), and housemade chorizo w/ pickled radish/ queso fresco/ mint all complement the main attraction: the small, aforementioned wrestlers! tacos, tacos, tacos. Try the Beef Barbacoa (smoked brisket, pickled red onion, avocado crema), or the Carnitas w/ salsa verde, cilantro & queso fresco, or the Dallas: spicy beef served on a fried tortilla w/ longhorn cheese, also how Matty McConaughey hooks 'em horn...y ladies.
The Tequila40-plus tequilas and mezcals (Iguanas, Tequila Ocho, paQui, Mi Casa, Corralejo) join sangria, micheladas, and draft/ bottled suds (Cucapa Chupacabras Pale Ale, Jack Abby's Smoke & Dagger, High & Mighty Beer of the Gods), as well as cocktails like the Chartreuse-rinsed Hombre Sin Nombre mixed with blanco tequila/ mole bitters/ agave, and even a trifecta tequila shot, side of sangrita, pint of Negra Modelo special called a Mexican Happy Meal, which sadly doesn't come with the small prize you're probably hoping for.