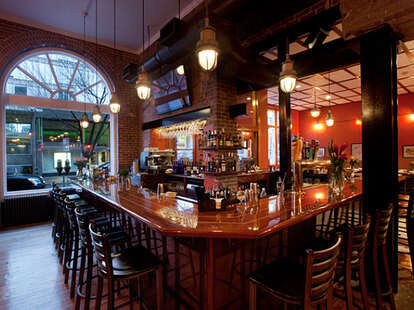 Two years after shuttering his iconic neighborhood ice cream parlor, the dude behind the Harvard Sqr Herrell's has painstakingly overhauled the spot into a casual, something-for-everyone "boots & suits" eatery specializing in regional seafood and new American sustenance with a Southern flair, all on a historic site that purportedly once housed British America's first printing press, or as they called it, "the thing we use to anonymously talk ish about John Adams' height".
Claim you've already been there by knowing all about:
The Digs: An 18-seat handmade mahogany/ maple horseshoe bar anchors the expanded, wood-heavy 31-table space that's maintained its popular in-vault dining (NOTE: you do not need to go to the FiDi pick-up bar to eat here) while losing the ice cream coolers and colorful murals, and adding industrial filament lighting and exposed brick/ cayenne-red walls hung with varnished letterpress type cases and framed antique newspapers/ maps/ political cartoons.
Burly Fare: All-day ocean-to-farm eats range from wild boar carbonara with smoked Gouda, to bourbon-ale-braised pork shank w/ smashed potatoes, to a "holy crap, I'm in the Everglades" Swamp Bowl chock-full of fried gator, frog legs & steamed mudbugs (crawfish, son!) that's sided with seasoned pork belly chips, which surely won't help rid you of that Ponch.
Libations: Sip on 10 drafts (Rapscallion Blessing, Cisco Whale's Tale, Brooklyn Lager), 20 bottles (Kronenbourg 1664, Kentucky Bourbon Barrel Ale, Full Sail, 22oz of JK's Scrumpy), small-batch wines, and cocktails like their take on the Charleston-born Planter's (or Printer's) Punch mixed with fresh-squeezed citrus/ spiced rum/ Bulleit and a float of Vinho Verde -- though take it down too fast and your stay at FP will, like Adams, be much shorter than anyone really imagined.
Photo Credit: William Horne