The Harvard mainstay has broken through the mayo-slathered ceiling of our Favorite Five Burgers with a brand new sports-centric sammie: The Ocho Cinco, a cajun burger topped w/ bacon/pineapple jalepeno relish, and pounded from ground prime, unlike its namesake, who's probably just past his.
Recommended Video
Mini Chicken Pot Pies: Big Homestyle Flavor, Endearingly Tiny Portion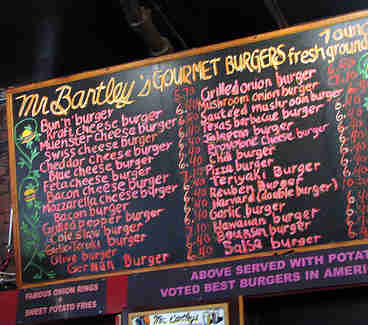 Previous Venue
Next Venue
Venue Description
1. Mr. Bartley's Gourmet Burgers
1246 Massachusetts Ave, Cambridge, MA 02138
A Harvard Square mainstay since 1960, Mr. Bartley's slings greasy, 7oz patties in this always-busy American diner. There are tons of photos cluttering the walls that boast celebrity visits, the tables are so close you're practically sharing them, and you can't go a minute without hearing a thick Boston accent yelling out burger orders. The highest-stacked and most popular burger with locals and Guy Fieri alike is the Harvard Double: two fat beef patties with molten cheese, crispy bacon, and thick barbecue sauce are piled with a mountain of grilled red peppers and onions. Soak up the juice with a mound of Mr. Bartley's signature extra-crispy, extra-thin deep-fried onion rings.