All-you-can-handle pig. And goat. And beer.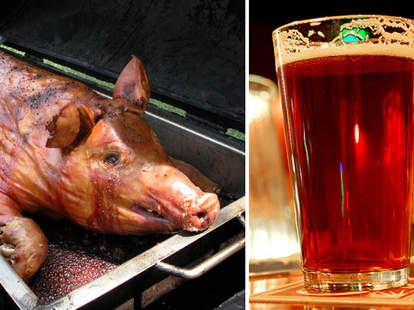 Because you can't spend every 4th shotgunning Tabs with your buddies at Lake Waban, why not kick this one off partaking in endless roasted meat, at this first-annual, all-day, all-you-can-eat Independence-celebrating gorgefest featuring a whole roasted pig at Moksa, and a whole roasted goat at OM. Sounds too good to be true? Well stop with the cynicism because it's not. For the price of admission, you'll be permitted to
• Eat unlimited pork/ whatever delicious-sounding euphemism they have for goat.
• After you finish that, nap on the floor of the resto. Then start eating more meat, including everything from Thai sausage and lemongrass chicken, to ribs and smoked pork neck/ butts
• Eat not-meat, like oysters, Asian-influenced mac 'n cheese, cornbread, collard greens, and grilled corn on the cob.
• Wash it all down with free-flowing German drafts suds. Here's a hint: Jay-Z gets paid to say he drinks them!
• They're requesting you use the T to shuttle between the two restaurants, but don't worry, because by passing out gratis Charlie Cards, it's pretty clear they're picking up the Tab(s).