After ditching the South End for that Square Matt Damon only visits to pwn ponytailed grad students with apple jokes, the renowned chef behind Ginger Park & OM's now taking it to Central with Moksa, a casual izakaya/ cocktail haven/ night club that slings late-night Asian tapas and street eats alongside upscale libations.

So as you're only startled by homeless dudes peeing in ATM booths (you go, Central Square!), here's what to expect:

Interior: The concrete-floored ginormous space rocks an open-ceiling industrial vibe and is broken into three sections: (1) a wood-friendly cocktail lounge boasting high-tops in the windows, an LED-illuminated 11-seat bar, and a giant vellum origami light fixture; (2) a main dining room replete with a wall of bamboo banquettes and an exclusive menu'd, ten-seat bar; (3) and a soon-to-open adjoining, separate-entranced nightclub called Naga, which is purportedly a dragon-like serpent who... swallows your money then makes you do weird shots and try to sext your exes.

Sustenance: Pan-Asian street shareables fall into six groups (Dumplings, Noodles, From the Grill, etc.) and run the gamut from Indian flatbreads stuffed w/ pork belly & poached quail egg, to pig cheek/ beef tongue skewers, to tuna poke w/ hearts of palm, but not Hearts of Palmer, as Jesse's time on The Bachelor just proves his can't be captured so easily. Libations: Because pig cheeks tends to go better with booze, wash 'em down with an Asian-inspired lineup of crafty cocktails like the Tokyo Chic (white whiskey, absinthe & smashed edamame), the Shanghai Noon (brandy, tea smoked sugar cubes, and gunpowder bitters) and the Eye of the Tiger, with scotch, habanero, and chutney made with mango, though you'll have to correct Damon when he incorrectly keeps asking how you like dem apples.

Photo Credit: William Horne
Recommended Video
Pig Out at This All-Bacon Restaurant.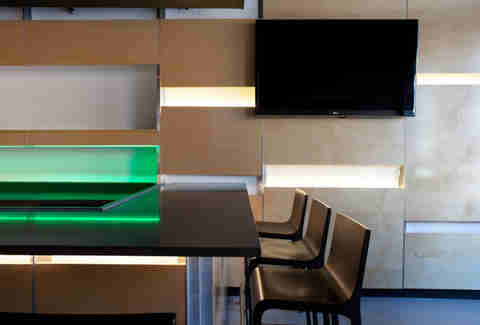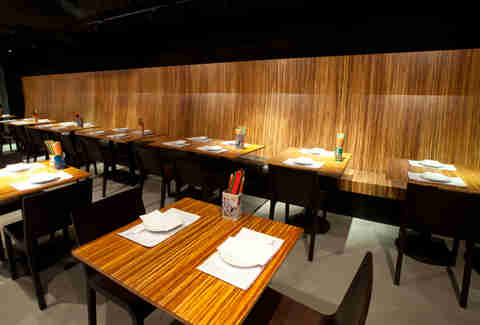 Previous Venue
Next Venue
Venue Description
1. Moksa
450 Massachusetts Ave, Cambridge, MA 02139
After ditching the South End for that Square Matt Damon only visits to pwn ponytailed grad students with apple jokes, the renowned chef behind Ginger Park & OM's now taking it to Central with Moksa, a casual izakaya/ cocktail haven/ night club that slings late-night Asian tapas and street eats alongside upscale libations. The space is open and industrial with an 11-seat bar and a main dining room with bamboo banquettes. Pan-Asian street shareables like pig cheek skewers and tuna poke with hearts of palm fill the menu alongside crafty cocktails like the Tokyo Chic with white whiskey, absinthe and smashed edamame.