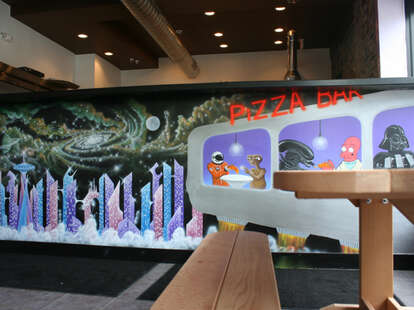 Because why settle for one successful restaurant when you can dominate an intersection with two, the brothers behind All Star Sandwich Bar are making Monopoly moves on Inman Square, having just annexed the entirety of Baltic Ave literally-just-across-the-street former Aram's #1 and morphed it into their #2: an eye-catching 20-seat nook pouring draft suds alongside gourmet 'zas that're billed as "Funky", so expect to order them by the Bunch. Now feast your brain on:
The Place: Replacing the giant Wyland-esque underwater dolphin seascape with an equally imposing but not-at-all-Wyland-esque chalkboard menu, ASPB's bringing the bold via purple & orange walls, dual unvarnished pine picnic tables, and a starry cosmic counter mural that portrays ET and Darth Vader enjoying slices, which he normally reserves for cutting off his son's hand.
The Potables: As "bar" is in the name, make proper use of the time your brick-oven za's cooking by throwing back a pitcher of red sangria, PBR by the bucket, or one of six taps including Long Trail, BBC Steel Rail, and Harpoon Summer, also the name of a contest MTV execs thought up in 1994 involving contestants throwing sharp objects at Sanders while she swam in a lap pool dressed as a whale.
The Pies: You can either design your own with over 20 toppings (chorizo, garlic confit, white Sicilian anchovies, etc.), or grab one of their 16inch thin-crusters like the Buffalo sauce'd Duck Confit w/ Maytag blue cheese, the De-Constructed Chile Relleno (tomatillo salsa, cotija, poblano & chorizo), or a breakfast version rocking hominy-ricotta grits, maple sausage, soft-baked eggs, cheese, and even pickled chiles, if you prefer to take a walk on the Wildside.