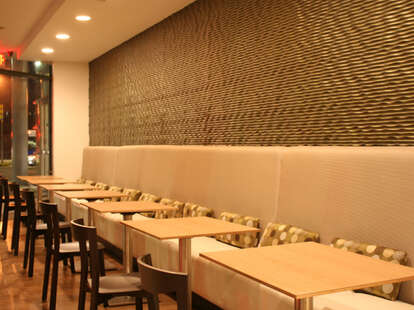 Because you can only keep a man trapped in Quincy for so long before he eventually kills a guy wants out, check Fuji at Kendall, the 56-seat inaugural Hub escape from the dudes behind, literally, an entire hoops team worth of restaurants in the Z (B-Cafe, Kama Lounge & Bistro Chi, etc.) who've jettisoned the South Shore in favor of serving fresh fish, cocktails, and upscale Asian to upscale Asians, and other tech nerds in the 'bridge.
So you don't have to awkwardly stare through the floor-to-ceiling windows, expect:
Ambiance The brightly lit, mod, two-room space is highlighted by a 13-seat white marble booze/ sushi bar inset with reading lamps, and flanked by brick tiles/bronzed mirrors, beige banquettes below wavy green sandboard, and an artsy Jenga-esque wall of wood beams, so you can build up an appetite before you start eating. See what just happened right there? With the Jenga?
Nourishment Vittles run the gambit from a Japanese shrimp bouillabaisse served in a tea pot and a General Gao's Flaming Wok Set w/ crab rangoon, to teriyaki broiled eel, maki like the inside-out Torch (salmon, hamachi, spicy mayo), and a fried nori-wrapped number served with spicy jalapeño ponzu sauce called the Philly Cheese Bomb, also a play Andy Reid has been calling pretty much all season.
Libations They've got Sapporo on draft, Kirin Ichiban in bottles, and Thai fave Tiger 77 on the way, as well as 40-plus (white heavy) vinos, traditional cocktails like Moscow Mules/Dark & Stormies, a handful of Martinis for the ladies/ your lady tastes (cucumber vodka, white chocolate), and a lineup of hot/cold sakes, which would bomb in Quincy, as most people there are all Four Loko.