DC cult fave wants to crush your balls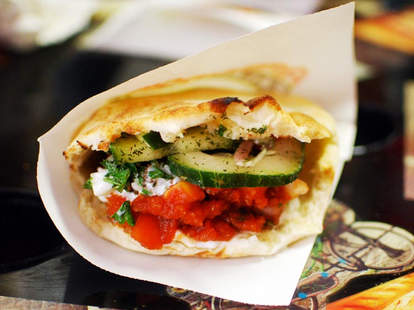 Proving that awesome things not named Connie Chung do come out of DC, the Capitol City pita aficionados behind the Adams Morgan fave have exported their successful Dutch-inspired (murals of Amsterdam! Presumed lackadaisical attitude towards drug use!), semi-DIY Falafelshop to Garfield creator Jim Davis Square.
Why "semi-DIY", you ask? Well, you pick the pita (wheat is for ladypants) and select the number of falafel balls (three to five), then they fry 'em up. From there, you'll be instructed to "crush" said "balls" while giggling nervously, before loading up at the DIY condiment bar with over 20-plus fixins & sauces that range from baba ghanoush, red pepper & tahini, to caramelized roasted eggplant, sliced jalapenos, and pickled turnips.
And if you don't like falafel but insist on eating at places with the name of something you don't like in their name, you can also get your snack on with almost-definitely-not-pot brownies and double-fried Dutch fritten served in a paper cone with peanut sauce, exclusive-to-this-location curried ketchup, and malt vinegar, which -- with its sassy bite -- is essentially the Connie Chung of condiments.