You'd be a jackass not to hit up Painted Burro for their new Sunday Burro Brunch, featuring four fresh items so sexy and ridiculous, they've been asked to replace Sofia Vergara as the latest face of Covergirl/ Pepsi. But before you see them in commercials during 16 and Pregnant, check 'em out below: Some facts: The Mexican Loco Dog is an all-beef pearl hot dog, topped with savoy cabbage, jalapeno slaw, chicharron, chipotle ketchup, agave mustard, charro beans, and queso'rito chips. Some fiction: Hardy Boys Casefiles Volume 106: Attack of the Video Villains. Yucatan Meatloaf: If you don't like two fried eggs on top of guava ketchup-glazed spicy ground sirloin stuffed with chorizo, ham, chicharron, green olives & toasted almonds, and served on toast, you will never achieve your life goals, no matter what those fortune cookies say. Mexican Chipotle Chocolate Chip Pancakes made with Taza chocolate and topped with sweet agave whipped cream. To make the Fried Chicken 'N Waffles, first the chicken is dipped in an achiote-citrus marinade, then fried up, and put on top of a sweet corn waffle w/ tamarind butter and habanero syrup so hot it was voted Best Looking at Nobles in 2011 and '12. They've also got two brunched-up drinks like an Iced Coffee Horchata and the Desayuno, which has Fair Café, vermouth, citrus bitters, and enough La Puerta Negra Anejo tequila to ensure you'll end up acting like an ass no matter what.
Recommended Video
The Definitive Eggnog Recipe You Need for the Holidays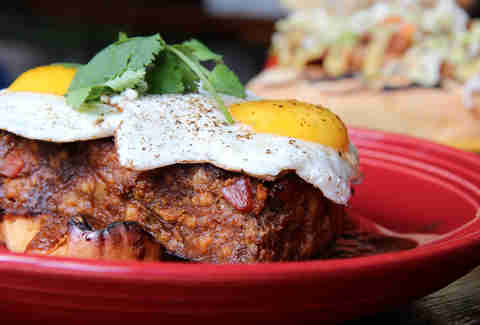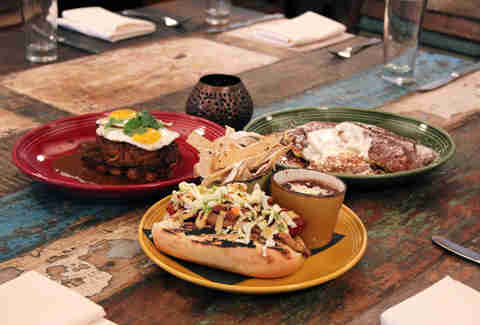 Previous Venue
Next Venue
Venue Description
1. The Painted Burro
219 Elm St, Somerville, MA 02144
Painted Burro's a 95-seat Mexican kitchen & tequileria described as a "farm chic hacienda" featuring a red-/white-walled dining room with weathered wood tables, plus a 14-seat hammered tin/ reclaimed beam bar lit by wire cage lamps and overlooked by a unicorn burro mural rocking a luchador mask and corncob horn.