You, 11 friends, and a hog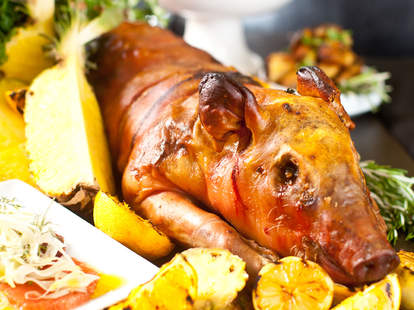 Posto's just now debuting Swine & Wine dinners -- an epic, communal, whole-pig repast held every Monday night, during which you and 11 friend persons (or you and three friend persons and seven dwarves, or...) will proceed to take down
Every last part of a succulent, herbed-sausage stuffed heritage breed Vermont pig roasted whole in Posto's wolf-breath-proof, Neapolitan wood-burning oven.
Seasonal family-style sides that change based on the chef's "whims" (though not the ones that're used to raise ore or water from a mine) like honeycrisp apple & Fall veggie hash, potato gnocchi w/ Brussels sprouts & pancetta, and golden raisin & brown butter-roasted cauliflower.
Paired vino from their 40+ non-reserve by the glass menu includes a Billi Billi Shiraz and a Rivarey Tempranillo, and ensures it's not called swine and wine just because your complaints about how stuffed you are dwarf everything else.