Boston vs. New York. But this time, with food.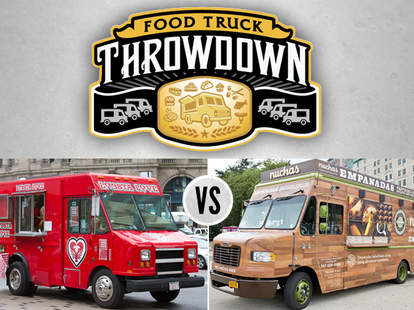 If Boston and NY were college roommates, Boston would definitely pee on NY's keyboard, then NY would steal all of Boston's Easy Mac and blame it on poor, loser-ish Hartford. But since cities can't go to college (yet!), there is another way to settle at least one part of this mutual distaste, and that's with a good old fashioned Food Truck Throwdown. The ingenious brainchild of the chick behind Kickass Cupcakes, FTT's an all-day, free-to-attend-but-pay-to-eat bash in which 14 mobile kitchens from Boston and New York go grill to grill for the title of "Best Truck", while you compete with yourself for the title of "Most Calories Consumed In An Hour While Standing Up". Let's get ready to rumble:
In the Blue Corner: Winnowed from 20 to seven in last month's online voting, the Hub's bringing an all-star lineup that includes Roxy's Grilled Cheese, Vietnamese fave Bon Me, Staff "The Phantom Gourmet better not show up at this event or sh** is definitely going down" Meal, and Lobster Love
And in the Red Corner: Well, who really cares, right? They're from New York. But if you have to know, the Empire State's repped by artisanal empanada aficionados Nuchas, the pretty much self-explanatory Fishing Shrimp, and the interestingly named Wafels & Dinges.
The Scoring: Overall Best Truck aside, contestants will spend the day sparring for props in cleverly monikered categories like Best Taco (Tortilla Time), Seafood Item (I Sea You), Asian Dish (East Meets East), and even Best Looking in a design competition dubbed How's Thou Art? The obvious answer, of course, being never the same after splitting with Simon
The Undercard: If you hate America and food trucks, feel free instead to jam out to live tunes, stroll through the tented vendors, or give some lawn games the old college try.