Twelve chefs. Free-flowing beer. Lawn games. Go charity!!!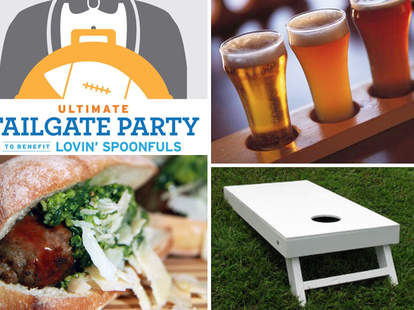 Just because Lee Corso likely isn't visiting Chestnut Hill in the next infinity years doesn't mean you can't get your GameDay tailgate on, or better yet, let 12 of the Hub's top chefs do it for you at The Ultimate Tailgate Party: a three-hour, thankfully-not-BC-related, all-you-can-gorge cookout on the waterfront aimed at raising cash for charity. After unloading the Whinny and hanging your Trinity College Bantams flag, plan to partake of
Grilled Meats: Bounce between 12 "MVP" chefs as they whip up high-end versions of their fave tailgating grub like Mary Dumont's (Harvest) Thai-braised heritage pork ribs w/ kimchi, Jeremy Sewall's (Lineage) spicy lobster tacos w/ avocado mousse, Louis DiBiccari's (Storyville) porchetta sandwiches, and Joanne Chang's (come on, you know Joanne Chang) Korean BBQ sloppy joes
Free-Flowing Beverages: As the key to any good tailgate is Steve Grogan, clad in his full Pats uniform from 1988, including pads booze, Josh Childs & Jon Parsons will be shaking up signature cocktails whilst Peak Organic'll be pouring their IPA, Nut Brown, and Fall Summit Ale
Lawn Games: In between beer and food runs and piggyback rides from Steve Grogan, kick back on the grass with some competitive cornhole, jam out to tunes, or go big bidding on Celtics memorabilia and luxury hotel packages on Nantucket and Back Bay in the live auction, where you'll waver on spending too much money, and then likely say, "Ahhh, f*** it!!".