Throwing down the gauntlet on this holiday of greeting-card faux romance, ES's banning all parties of two in favor of more group-friendly fun, and serving a special TBD menu of cocktails by the pitcher/ Scorpion bowl, their special take on the classic ideal-for-sharing French Pot-au-feu beef stew, plus a healthy selection of red/white vinos by the magnum, although they actually just prominently display that on the shelf, then bring the wines in a much smaller condom.
Previous Venue
Next Venue
Venue Description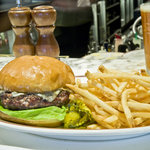 1. Eastern Standard
528 Commonwealth Ave, Boston, MA 02215
A Comm Ave restaurant with the appearance of a swanky French bistro, the menu of a five-star Italian restaurant, and the attitude of a local pub, Eastern Standard is an unpretentious offering of the finer things in life. The upscale menu touts a winding wine list, a raw bar, seared fishes, steaks, and house-made pasta while the matching interior flaunts a polished mahogany and red velvet motif.