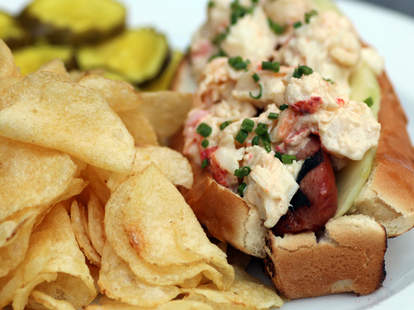 As evidenced by how long its Wikipedia page is, Decision Theory is interesting. But apparently those mavens of cool behind Audubon Circle don't love the concepts of normative and descriptive (or even behavioral) decision-making like everyone else, because they're taking said decisions out of your hand by introducing the Kobe Beef Lobster Dog.
You heard and/or read correctly. There is no longer a need to decide between New England's two most pleasing Summer products, now that they're throwing down a butter-griddled hot dog bun, layering it with choice grilled Kobe cased meat and sliced cucumber, then topping that with chives and bountiful helpings of lobster mixed with mayo, salt, pepper, lemon juice, and Dijon mustard, which rich people from the '80s only seem to eat in cars.
Said dog's accompanied by bread & butter pickles and a heaping pile of Cape Cod chips, and is best washed down with their signature Fish House Punch, a combination of light & dark rum infused for 14 days with a melange of different fruits (strawberries, bananas, lemon) and garnished with lime & orange slices, aka what Jim Courier hits on the tennis court.
Can't get enough? Have had more than enough and now want to do something different? Well, in a few weeks, AC is going to hold a Lobster Dog parade, though if you want to dress your St. Bernard up in a wacky crustacean outfit, that decision is all your own.