Now through Feb 23rd, you can enter your own masterful 'wich creation on Bleacher Bar's F-book page to attempt to be one of the ten finalists for said Showdown, the winner of which gets his/her invention on the menu at BB for the Sox 2010-11 season, access to its coveted window table (overlooking center field) for three games, and Green Monster tix to the Sox-Yankees game in April; so here's hoping the judges' minds are blown by Bacon, Lettuce, and Tomato...Sauce!!!
Recommended Video
How to Hack Taco Bell's Naked Chicken Chalupa
Previous Venue
Next Venue
Venue Description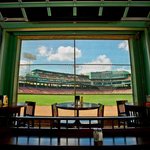 1. Bleacher Bar
82A Lansdowne St, Boston, MA 02215
Take me out to—or rather, underneath—the ball game. Tucked beneath the centerfield seats of historic Fenway Park, Bleacher Bar offers brews and snacks with a scenic view: a ground level vantage point of the baseball diamond. Red Sox fans gather in droves to feast on sandwiches and craft beers before the game; with finished dark wood furnishings and walls emerald enough to match the Green Monster itself, this spacious annex is prime for large groups. Even the men's bathroom offers a unique experience, as you can contemplate the outfield through a window by the urinals.