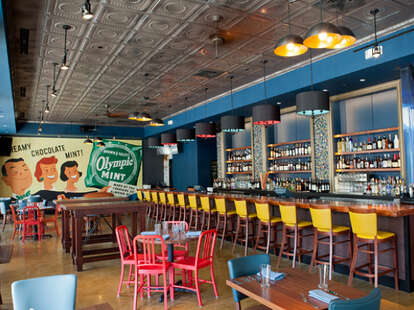 Fresh on the heels of his successful Back Bay Latin joint Tico, the free-wheeling Michael Schlow's taken the former Fenway Burtons Grill and turned it into a bar-meets-deli-meets-diner with a youthful, industrial, "hip" vibe that no longer screams, "I'm only going to go here with my grandparents!".
So as to ensure you appear youthful, industrial, and hip as well, tell your unwitting friends about:
The Space The graffiti-walled interior (curated by the dudes at Bodega) is split into two: turn left and you're in the spacious bar/ lounge complete with kitschy retro couches & armchairs, and a hand-distressed, 15-seat bar backed by a wall of hammered bottle caps; turn right and you'll find a 32-table dining room accented by high-tin ceilings, brown leather booths, a 10-seat chef's table, and a chandelier crafted from old tea cups and silver spoons, though hopefully not past season three.
The Menu Since the name indicates there is a kitchen, expect "American" breakfast-thru-dinner eats like hot pastrami and Swiss on rye, a rotating lineup of never-been-frozen TV dinners, daily blue plates that include a "killer" 1lb meatball, and a horseradish-black-pepper-sauce, cheddar-topped WOWburger, which'll make you exclaim... hmmm... "yay!"?
The Beverages Wash it all down with booze-infused milkshakes and an elaborate assemblage of suds that ranges from eclectic 22ozers (Prima Pils, Rogue Dead Guy) and cans (Old Chub Scotch Ale), to their own Happy's Ale draft and an entire White Ale program complete w/ Aventinus, Cisco Grey Lady & Hennepin Farmhouse Saison. And that doesn't even include the cocktails, such as the bright blue Feeding Frenzy, which's served in a 48oz party bowl w/ gummy sharks and a fish net, or what your grandmother calls "those stockings I used to wear during our big nights out at Burtons".
Photo Credit: William Horne