Celebratory pig roasts & crab boils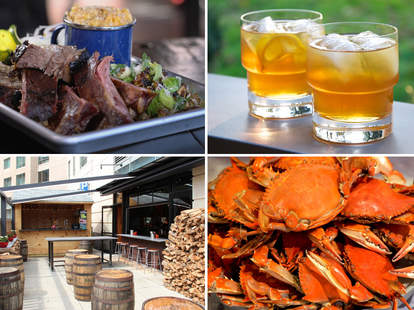 They say the only reason parents throw birthday parties for kids who are too young to remember is because they want to hang out with other adults. And for the mini-ponies wearing sneakers. So, to celebrate the one-year birthday of her crazy popular Fenway BBQ joint, chef Tiffani Faison's throwing SC a party it totally won't remember when it's eight but, who cares, because you will, thanks to its combination of two culinary fetes (but, sadly, no mini-ponies wearing sneakers). To wit:
They'll have myriad finger foods like fried chicken bites, Johnny cakes w/ pork belly, and fried okra & pimento cheese. Or sink your chances of fitting into skinny Arizona cargo jeans with some pulled pork-topped crispy potato boats.
An old school Southern-style crab boil complete w/ sausages, boiled red potatoes, and corn on the cob.
Festive party games like ring toss and cornhole, aka "baggo", aka "bags", aka "that game you always get stuck playing at tailgates with a partner that throws overhand and ruins everything and makes you wish you'd just stayed home and watched reruns of My Babysitter is a Vampire on Disney".
New cocktails like the bourbon & hard cider Angry Cheeks, or a coconut and spiced rum specialty dubbed the Indian Summer.
Even more food, to the tune of a whole hog served right off the bone along with pulled chicken & chopped brisket, plus enough family-style sides (mac 'n cheese, salt & pepper potatoes, farm salad, etc.) to make anyone think twice about sneakily touching your mini-pony.