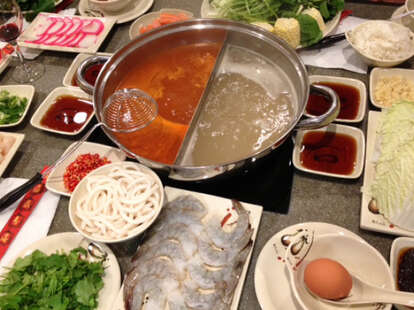 They say that if you can make it in Quincy, you can make it anywhere, though they really just mean Revere. Opting to avoid competition from Kelly's by moving to Boston instead, Swish Shabu.
From an engaged couple who cut their shabu chops with sharp knives a similar joint in the Q, SS's a new 58-seat, grill-your-own-grub Japanese hot pot/ sushi haven that boasts leather banquettes, 13 custom-made gray Corian tables w/ inset stoves, a four-seat sushi bar, and hanging light pendants that resemble tree bark. Over small talk about small Sox like Jody Reed, enjoy apps (paper tuna, Sukiyaki littlenecks), then slowly swish your way into hot pot action by cooking up ostrich, beef tongue, boneless short rib, and tripe (among 25+ other meat/ seafood options) w/ veggies (who cares) and unique soup-bases like cilantro & preserved duck egg, the sweet/ tart goji berry, or Szechuan Mala, which's labeled "hot hot hot", presumably so Buster Poindexter doesn't have to think about what to order. SS also rolls specialty sushi like the Ebi Hot w/ shrimp, crab meat, asparagus & oshinko; the Lobster King (avocado, green leaf, yamagobo, cream cheese); and one dubbed the Fashion Tuna, topped with black tobiko, radish sprouts, tempura flakes, and a dressing called sweet tonka.
Drinkwise, they've got all your go-to sakes, as well as brews that range from Japanese faves (Sapporo, Asahi, Kirin) to Bee Tea Pale Ale from Night Shift Brewing in Everett, which is another tough town to make it in, even if it's not completely Revere'd.