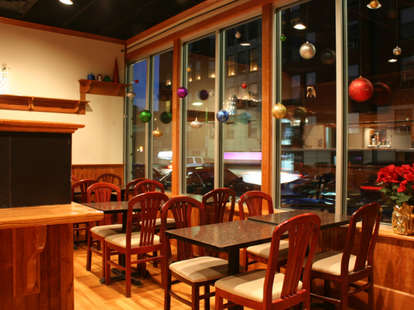 Because apparently it takes more than a roaring four-alarm fire in the middle of the night that even Billy Baldwin in Backdraft couldn't have put out to stop the dude behind Thornton's Fenway Grille, he's painstakingly rebuilt his Fenway row spot -- retooling the interior whilst keeping your fave dishes -- and, after an almost three-year hiatus, is back with a vengeance. And more space. And draft beer.
What's New? Heeding Reagan's impassioned '87 plea to Gorbachev, they've knocked down that wall that kept East Germans from enjoying Levis split the space in favor of a 15-seat, U-shaped bar that anchors one bright/ wood-accented room cut into three and outfitted with 22 tables, drink rails for those with restless leg syndrome, 10 flatscreens, and a lineup of "wait a minute, these totally weren't here before!" draft beers including Rapscallion, Long Trail, and Lagunitas IPA.
What's Not New, But Still Pretty Damn Sweet Faves that'll bring you back to whatever happened three years ago include the juicy Celtic (peppers, onions, Swiss) and cajun/ jalapeno/ cheddar'd Melt Down burgers; the pineapple and pea pod-topped teriyaki-style Chinatown chicken sammy; and a bevy of refreshing fun-time libations like the all-in gin/ vodka/ rum/ tequila w/ Midori Green Monster, plus boozy ice cream blender...thingies like a dark creme de cacao and Oreo number called the Fenway Slide, also what the neighborhood kind of went into when this place didn't exist.