The Boot lands in Brookline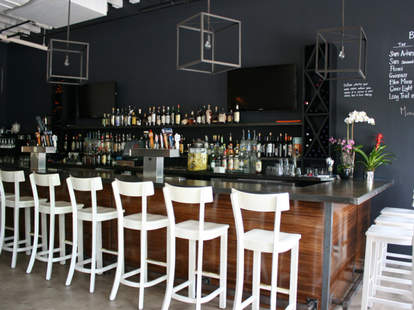 Because apparently not everything you need to know about an Italian restaurant can be learned from Billy Joel, get the scoop on Jimmy's Bar & Oven, an industrially vibed eatery just opened by the Brookline native behind shuttered Joe V's, and describable as "definitely not your father's Italian", which makes sense, as that guy would be old and unproductive at this point, and it's no longer socially acceptable to own immigrants anyway.
Space: A giant b&w photo of a cigarette- and fedora-sporting man lords over a concrete-heavy, warehouse-styled dining room w/ a long communal hightop, garage doors that open to sidewalk seating, and iron-framed light fixtures, all accessed by a minimalist outdoor facade with no sign, meaning the place is totally unfit for insightful conversations about why Pisces have trouble expressing themselves.
Nourishment: Classic Italian edibles run the gamut from homemade meatball subs (w/ petite mixed greens) and chicken scallopini (w/ sauteed beans & risotto), to a blue-cheese-buttered NY sirloin w/ arugula and pomme frites, to a lineup of stone-hearthed thin-crust 'zas including a goat cheese/fig/pear joint, and a signature chicken parm, which is also how Louie Anderson signs royalty checks when he can't be bothered to pick up a pen. Haha, just kidding, no one sends him checks.
Libations: The recognizable assemblage of sudsy goodness covers the likes of Dogfish, Tecate, Peroni, and He'brew Origin Pomegranate Ale, plus there's a lineup of 15+ vinos that includes Xplorador Malbec and a California Cab from Different Drummer, bottles of red that'll ensure you're at least popular, if not altogether steady.