Catfish po' boys and craft beers in Coolidge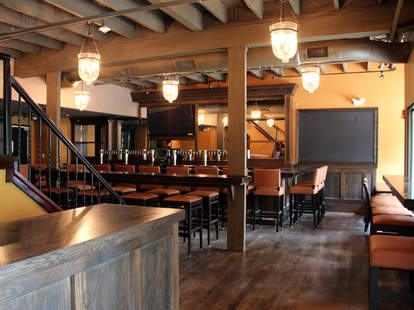 After four years of running their popular neighborhood wine shop, the two longtime buddies behind Coolidge Corner Wine & Spirits decided to take it to the next level -- despite the risk that it might include giant shirtless members of the Black Warriors gang trying to hit them with steel bats and dynamite sticks -- and annexed the adjoining former Finale, transforming it into a two-floor 'Gastrolounge' of craft beer, brown booze, and southern-style comfort vittles.
Immediately add this to My Thrillist before you mentally prepare for next week's opening by memorizing
What You'll See: Designed to be "not too glitzy" with a palette of welcoming earthy tones, the two-floor, 125-seater rocks wood columns, a custom-milled wooden bar with leather stools, and walls hung with old whiskey barrels, while the more loungy upstairs offers tree-filled views of people wandering around Coolidge Corner asking how to get to GameStop
What You'll Eat: Celebrate your favorite movie by kicking things off with fried green tomatoes in a buttermilk dressing, or don't celebrate movies and order griddled Allagash white beer bread, or southern Scotch eggs wrapped in spicy chorizo before plowing through their blackened catfish po' boy, and crispy fried chicken with a side of cheesy grits, if only because they consistently use that "party in my pants" pickup line.
What You'll Drink: Pouring over 30 drafts, the impressive 80-plus beer repertoire runs the gamut from Boulevard Tank 7, Port Wipeout, and Stone Arrogant Bastard, to 21st Bitter American, Victory Golden Monkey, and Wells Banana Bread. HNS is also stocking over 80 bourbons, Scotches, ryes & whiskeys, which is more than enough to make you go through the next day double draggin'.