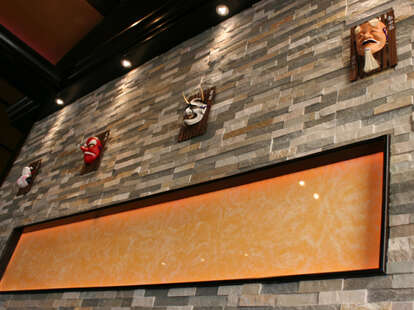 Replicating small-town-restaurant success in the big city is a challenge, as urban diners tend to be more discerning, critics more biting, and e-newsletters more prone to making sweeping, unsubstantiated generalizations about "small towns". Up to the challenge: Osaka Japanese Sushi & Steakhouse.
After crushing it for 11yrs in Northhampton, the Osakians have headed down the Pike to Brookline, morphing CC's former Kabbalah Centre into an expansive, fish-rollin', shrimp-tossin', hibachi...having... warehouse that slings a menu billed as Japanese Franco fusion, also Tokyo's top-secret energy system powered by James' boundless artistic curiosity.
The Digs: Downstairs, there's a lounge and full bar, but head up, and you'll find an eight-seat marble sushi bar and main dining room, which an elegant slate wall divides from six 12-person hibachi grills, aka what Paul Wall puts in his teeth during video shoots where he zanily tosses shrimp tails into his chest pocket.
The Eats: Filets are cooked tableside on a traditional stone grill, but if your Puritan sensibilities preclude you from watching others cook your food, there're also creative rolls like the Yellowtail on Fire (thanks to a yuzu soy and jalapeno salsa), and a spicy salmon/tuna joint (w/ avocado green tea & mango sweet chili sauces) called the Half and Half, so they're sort of milking the pun thing.
The Libations: Japanese suds (Asahi, Sapporo, Kirin) and sakes are complemented by exotic cocktails like the Asian Mist (coconut rum and melon liqueur), plus there are party-starting/-ending Scorpion and Lotus bowls, which're filled with rum/brandy/gin and dubbed "the mother of all drinks"...by them, but then again, they're from a pretty small town, so...