New Italian out of an old house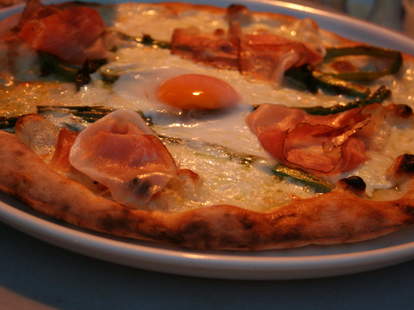 Obsessing over something is risky -- on the one hand, your intimate knowledge of the subject might make you rich, but on the other, you've got to cut and dye your hair exactly like Bridget Fonda, and then stab her boyfriend in the eye with a heel. Hoping that their obsession with a chef turns into the former, the couple behind Villetta.
Opening tonight just across the street from the Brentwood Country Mart, Villetta slings upscale Italian in a historically preserved old house (featuring several dining rooms and patios), owned by a couple so obsessed with the former chef of a lauded NY restaurant that they tracked her down to the sticks of Pennsylvania and convinced her to move to LA -- is there anything the opening credits of Fresh Prince of Bel-Air can't do?!? Farmers market-fresh vittles include pasta dishes like half rigatoni w/ hot & sweet sausage, peas, and cream; seafood like wood-grilled swordfish w/ greens and green tomatoes; and lamb spezzatino w/ medjool dates, which're sweeter than medschool dates, because they're not all stressed out about $200k in student loans. They've also got a massive wood-burning pizza oven, doling out unusual circle eats like an asparagus, speck, fontina & sunny-side up egg number; one w/ merguez, roasted eggplant, sheeps' milk ricotta, & tomato confit; and another with roasted mushrooms, Taleggio & wild arugula w/ shallot jam, which took 45mins to get to people's tables during Lemonwheel.
In addition, they've got a full bar with specialty drinks like the vodka/ lime/ mint/ bell pepper "West Siide" and a Scotch/ Dubonnet/ Luxardo Amaro option called "The Drinker", which's exactly what you'll need to be to get up the courage to put on one of Bridget's slinky halter tops.