Indian over Harvard Square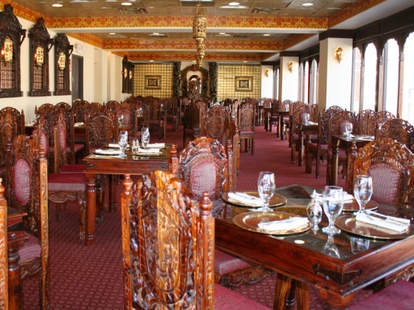 On the surface, few ideas seem more fun than going into biz with your buddies from college, until you remember that running an accounting firm is about more than daring each other to drink Papa John's garlic sauce while downloading Craig David tracks on Napster. Thankfully not opening an accounting firm, the college buddies behind The Maharaja, now open.
From three longtime chums who met at a prestigious culinary school in New Delhi, The Maharaja (which means "King of Kings") plates "Royal" Indian faves in the second floor 125-seat former Bombay Club, which has been gutted and elegantly recast w/ custom handcarved Sheesham chairs/tables/window arches, ornate metal/gem light sconces, brass charger plates, and 10 bar seats made from authentic camel leather -- the perfect place to belly up on Hump Day. Off-the-beaten-path seafood includes fresh bay scallops sprinkled w/ cumin seeds on a bed of creamy saffron sauce; Patrani Machi (tilapia coated w/ coconut mint chutney and wrapped/steamed in a banana leaf); and a yogurt/ginger-marinated lobster tail that's grilled in the tandoor and finished w/ a butter tomato sauce, which has an excellent body, but that's about it. There's also farm fare like Murgh Wajid Ali (chicken breast stuffed with paneer and nuts); fresh yogurt whisked with roasted eggplant pulp; and Khatta Dhuandar Gosht, piquant-sauced lamb cubes which're smoked w/ pomegranate seeds then marinated, presumably in six hours worth of the Cartoon Network's Adult Swim.
While the liquor license is still in the works (approved but waiting for a final sign off), you can get your fix with some Indian ice cream sweetened with buttermilk and Baileys and served in a chocolate cup -- which will leave you having to account for that lack of firmness.