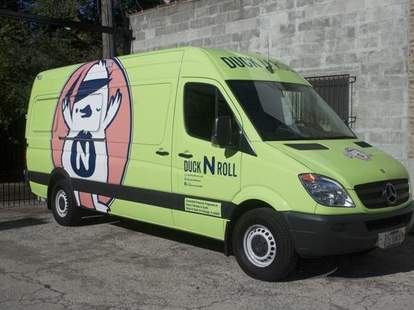 Because Asian trucks have been in short supply since the shocking demise of Yokozuna, DuckNRoll is filling the hole he left behind and your stomach by rolling out (!) inventive banh mi-style sammies. It's all the idea of a gal whose familial restaurant roots blossomed into a stint at Chen's, whose kitchen now serves a the truck's home base, but don't worry, that doesn't mean the sandwiches are (olly olly) oxen free.
Sandwiches come on a custom baguette from Andersonville's inventively named La Baguette, and come topped with red/green cabbage & Fuji apple slaw to complement meat choices like five-spice duck, miso-glazed short rib (both braised 8hrs before being pulled apart), and Shanghai pork belly that recalls the flavor of a Chinatown bao, appropriate since it'll head straight to your buns.
For side snackage they're frying up wonton chips and serving 'em with mango-lychee salsa, while dessert consists of Munchkin-esque doughnut bites filled with sweet Azuki bean paste, then covered in brown sugar and cinnamon, which sounds like the glorious lap dance of toppings.
They're also handling thirst with homemade lychee juice, warm soybean milk flavored with cinnamon sticks, and Vietnamese coffee enhanced with condensed milk, which you shouldn't pick up if you're looking Banzai Drop any weight.