An Asian hideaway on Rush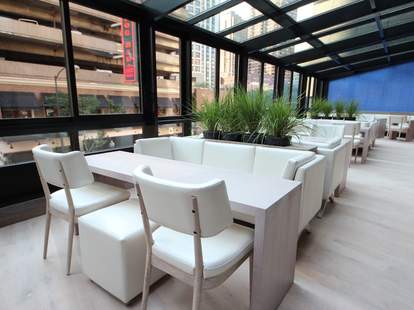 Everyone knows a jellyfish sting means you have to pee on your own leg, but the Jellyfish that just arrived in the Gold Coast will only make you pee on your own leg in excitement. The second-floor hideaway (with a secret entrance tucked between a pair of luxury boutiques) features an opulent dining room with an ocean blue ceiling mosaic and a floor-to-ceiling glass atrium flanked by curtained booths, so no one has to see you change out of those urine-soaked pants.
The seasoned chef (Charlie Trotter's, Sunda, Chizakaya) is coming at you with Asian flavor like Pinoy BBQ chicken w/ garlic rice & bok choy, as well as lobster Summer rolls, also what people from Winnetka call the car they use while the Winter Bentley sits in storage. J-fish is also deep on specialty maki like the Black Diamond (shrimp tempura and Alaskan crab w/ caviar) and a spicy tuna 'n salmon number kicked up with jalapeno & wasabi sauce called the Kiss of Fire, or Calen Carr's go-to move at clubs, before he got traded to Houston.
Drinks-wise, they're going beyond imported Asian brews and sake with cocktail creations like the white rum/ gooseberry/ lime/ herbal syrup Socialite, a status that becomes increasingly difficult to maintain with pee in your britches, so please calm down.