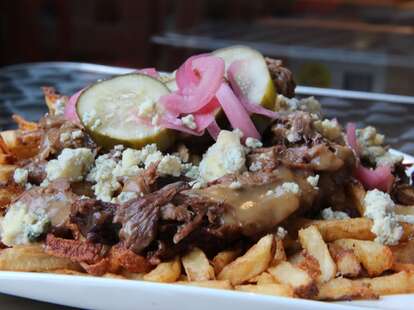 If you threw something away today that you could've recycled, or worse, composted, you can A) feel bad about yourself for the tears now running down Captain Planet's perfectly angular, blue cheekbones, or B) make up for it by hitting Local Root. LR is a three-meal-a-day American cafe intensely dedicated to sourcing their food locally (they travel to all partner farms, distilleries & vineyards) and supporting sustainability initiatives (zero waste resto, gardening, composting, etc)
Breakfast and lunch options range from vanilla custard French toast and lamb, egg & goat cheese on a biscuit, to 12hr braised beef brisket sandwiches w/ fennel slaw & chevre, and a roasted garlic BBQ/cabbage & apple slaw pulled pig, also something Jay Cutler definitely doesn't text his buddies when leaving Wrigleyville bars because he has a kid, for godsakes! Impress your dinner mates by not looking at the menu then ordering one of seven poutines (try the bacon & caramel), four flatbreads (maplewood duck confit!), or two types of mussels and frites, one of which involves beer, hot peppers & bacon.
Then impress them even more by snagging bottled suds like Founders Dirty Bastard, and cocktails like the Death's Door gin/pomegranate/lemon/egg white Clubhouse, also where Captain Planet has suggested privately meeting up so he can ream you the F out.