Grilling Colombian-style in North Center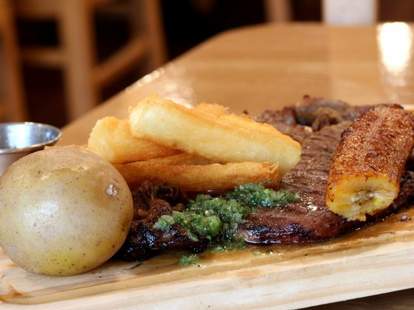 Starting a business is all about funding. For instance, if two girls who share the dream of starting their own business are broke, they make a casually racist CBS sitcom, and if they're liquid, they make the new Colombian eatery Melao: a cozy, brick-walled 40-seater lit by old-timey lanterns and decked with cutting boards painted different colors... which won't be joked about here, as this isn't CBS.
Speaking of which, those cutting boards are used as serving platters for a cavalcade of grilled goodness, from chimichurri-sauced NY strips, to fried whole red snapper served over crispy plantains, to the Picada: a threesome of pork belly, ribs, and sausage, though if there's more than one sausage, it's really a Devil's Picada. Smaller bites include guava-jalapeno-glazed baby backs w/ yucca fries, traditional empanadas filled with shredded beef or spinach & 'shrooms, and Marranitas, which're fried-pork-belly-filled green plantain balls, no longer blue thanks to that awesome pork threesome/Devil's Picada.
As for the booze, you'll be handling that yourself, 'cause they're BYOB, a welcome savings for broke girls, and the many ethnic minorities they lambast for being cheap.