Lincoln Park's new Italian temple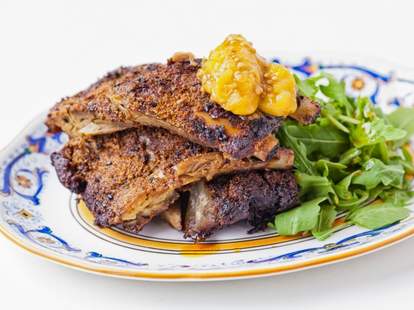 When established heavyweights team up, they can accomplish anything, which is why no one has been racially prejudiced since the early '80s. Thanks Stevie & Paul! Creating perfect harmony in your mouth: the team behind Balena.
A joint effort from the Boka folks and the culinary team behind The Bristol, Balena has slid into the Landmark space as easily as an alluringly sophisticated man of means would a lady, though he might be too distracted by the soaring ceilings, brown-leather-covered bar, and arched windows, which allow peering eyes a glimpse inside the second-floor kitchen. The Italian-leaning menu starts off with belly-sticking small plates of spicy short ribs w/ charred orange and basil, burrata w/ roasted beets and celery root, and wood-fired pizza w/ farm egg, pork jowl, and bitter greens, though you'd be pissed too if Drew Barrymore started dating a drummer, leaving you doing the Strokes alone. They're also deep on handmade pastas like canestri w/ duck liver ragu & hazelnuts, while meat-forward options include stuffed rabbit loin w/ garlic & chives, and charred quail, which decided to be served with escarole & hazelnut butter after having such a hard time spelling potato.
And should you sample enough of the 300 vinos to decide dessert's a good idea, you'll find composed gelato sundaes like vanilla w/ chocolate chip cookie, malt chocolate sauce, and "toasted milk", a phrase nobody has been allowed to joke about since 1982. Thanks a lot, Stevie & Paul.