A decorated chef sets up shop in Lincoln Park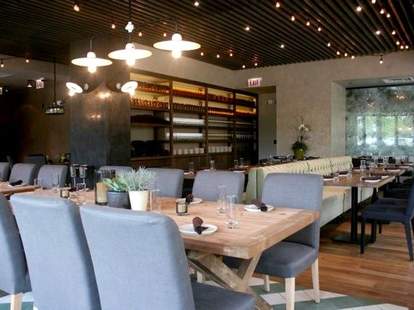 "Perennial" is defined by Webster's as something "persistent, enduring", making it an apt description of people's unwillingness to pick up dictionaries. For a restaurant that doesn't give a crap what Webster says: Perennial Virant.
Taking the title of its Green City Market-neighboring predecessor and tacking on the last name of the Michelin-starred, farm-to-table-fixated chef now manning the kitchen, PV's been made over into an "urban garden" thanks to copious greenery interspersed amongst tables of aged oak, which explains why he was so easy to rough up in Vegas. One portion of the menu'll be a seasonal prix fixe with options like confit pork shoulder w/ spring veggie giardiniera, chicken fricassee (shaved turnips and drop biscuits), and butter pound cake w/ toasted milk ice cream and hickory nuts, who thankfully can't disappoint you by showing up drunk and ending up in the hospital. Supplementing that're a la carte shareables including prosciutto-wrapped rabbit ballotine w/ preserved orange butter, Bearnaised grilled asparagus topped with a fried hen egg, and bacon vinaigrette-drizzled pea shoots, also what the announcer used to say every time Ollie heaved one up. You're getting all of these Hoosiers jokes, right?
To quench your thirst there're 100+ bottles of vino, a run of micro brews, and specialty 'tails like the bourbon/pineapple shrub/soda/Angostura bitters Zephyr, probably a more apt name for a restaurant given how often they're blown by the winds of change.