Unlike the hypothetical chickens who cross the road just for the hell of it, the folks from Riccardo Trattoria have a legit reason for heading across Clark St: to bring you Riccardo Enoteca, a laid-back, wine-sipping sibling that looks like the library of an Italian sea captain with its dark woods, black 'n white nautical photographs, and books... er, actually, no books. So maybe an illiterate Italian sea captain

Anchoring the kitchen is an imposing wood-burning oven that hates Omar Epps flicks but also turns out medium-thick pan pizzas with classic topping schemes like porcini/ Gorgonzola, caramelized onion, though they're pushing the oven beyond 'za, whether its browning up skewers of assorted Italian sausages or melting the mozz atop a tower of lasagna. They'll also be deep on shareable snacks like garbanzo flour crepes w/ lamb sausage and fava beans (insert completely dead-on Hannibal impersonation here), and they're baking their own breads, like the focaccia for roasted porchetta 'wiches

The 70-bottle wine list is about half Italian, though desserts like the seasonal fruit-appointed Torta della Nonna, literally "grandma's cake", will make it a lot harder to get to your other side.
Recommended Video
Would You Eat This 3-Pound Chicken Nugget?
Previous Venue
Next Venue
Venue Description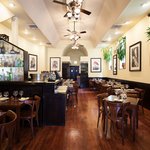 1. Riccardo Enoteca
2116 N Clark St, Chicago, IL 60614
This laid-back Italian in Lincoln Park turns out medium-thick pan pizzas from a wood-burning oven as well as hearty, house-made pastas and risotto, and Northern Italian meat specialities like veal Emiliana and chicken Milanese. The wide range of simply-prepared but rich dishes on Riccardo Enoteca's menu means it's hard to disappoint, and the wine list and dessert specials (tiramisu! ricotta cheesecake!) kick everything up a notch.