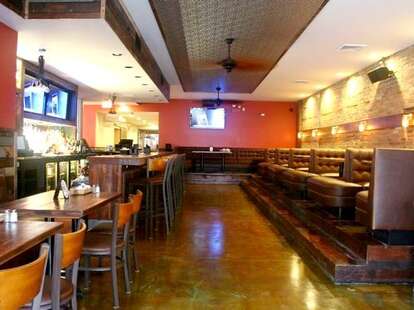 Things you grew up with have a way of sticking with you, especially if your dad was Art Fry, inventor of the Post-it note. For childhood 'za all grown up, hit Roots Handmade Pizza.
From the folks behind The Fifty/50, Roots is slinging the "Quad Cities-style" pies one of the owners grew up with in a massive 300+ capacity bar (made from 110yr-old wood from the original building) and patio, with mirrors angled towards the kitchen for a view of the heart of the operation, and walls covered in riveted tin, which can't tear its longing eyes away from said heart. The pizza's distinguishing qualities include a hand-tossed, malt-heavy crust that's scissor-cut into strips, with signature varieties including QC faves like one that's covered in a thick, fine-ground layer of housemade fennel sausage, and the gringo-tastic Taco topped with all the fixin's and seasoned chips, plus new creations including one they claim tastes exactly like a Big Mac, but's called the Big Mick, which is either a nod to Coming To America or Alec Baldwin. Other highlights include lasagna w/ housemade pasta sheets, which went through 17 versions before being perfected; mozz sticks made with hand-pulled curds; and a selection of sausages (Greek-style gyro, chicken-chorizo), any of which can be corndogged or wrapped in a blanket, which despite the precedent set by Ye Olde British War Crimes won't do much to quell any uprisings in your stomach.
Of the 70 Midwestern brews, 15 are draught (including a pizza-pairing house specialty courtesy of Two Brothers), while six ice-encased taps flow with vodka & tequila, and the specialty drinks/shots are themed around childhood, e.g., the Sambuca/ Dr. Pepper/black cherry vodka Good & Plenty, though hopefully you didn't have any of those during childhood, 'cause the effects would definitely stick with you.