A taste of the South on Division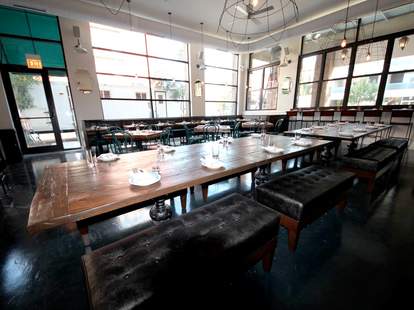 The Bedford squad is proving "Lowcountry" isn't just something former OSU center Bryant Reeves called his awkwardly short brother, by opening up Carriage House -- a Wicker Park-based, Southern eatery specializing in both traditional and modern takes on the cuisine of that sea-level-y country in South Carolina.
Named for the smaller buildings where rich people in SC used to house their, um, carriages and whatnot, the 100-seater (with room for 40 more on the patio) is casually decked with whitewashed wood and light fixtures fashioned from vintage baskets, presumably stolen from Will Perdue's career. Food breaks down into both the Old South (fried chicken leg with bread & butter pickles, house hot sauce, and local honey; an SC clam boil with tasso ham, Vidalia onions, fennel, hard cider & tarragon butter) and the New, with options like pork belly with watermelon, Creole boiled peanuts, pepper jelly & buttermilk scallion aïoli. They've also got a silly good brunch menu, so you can stuff yourself on biscuits with rabbit chaurice sausage, pimento & gravy, or Johnnycakes with peach preserves, cane syrup & pecans, while engaging in painful small talk with that girl from St. Charles you keep having sleepovers with but don't feel like committing to fully, and thus always guiltily take to brunch.
To help get to a state where sleepovers seem reasonable, they've got boutique wines, specialty drinks like the Trinidadian rum-based, hand-carved ice sphere'd Lazy Man's Old Fashioned, and traditional Southern punches, though not the kind Big Country's brother throws at his shins when he hears him use that nickname.