Because nothing can go wrong when you spend an evening ingesting a mixture of hallucinogens and aphrodisiacs, The Savoy is here to alter your senses with the double threat of a snug seafood cove, and a shadowy back-room absinthe lounge lined with jet-black banquettes and a technicolor mermaid who definitely wants to have sex with you, assuming you've had time for the hallucinogens to kick in. Up front, a barrel-stooled raw bar slings East and West Coast oysters and snow crabs with smoked tomato cocktail sauce, plus there're land-based options like the bone-in ribeye with truffle cream spinach and sweet potato hash. There's also a special late-night menu sporting items like smoked brisket sandwiches w/ roasted poblanos, crispy onions, and Calabrian chili aioli, or a lobster roll w/ lemon aioli, caramelized onions & bacon, in case you were concerned your own rolls weren't getting enough attention. The 40-strong list of absinthe, meanwhile, can be served traditionally or in cocktails like the pink gin/ grapefruit bitters/ absinthe Death Stamp, which you might end up with if that mermaid turns out to be someone slightly tougher than you.
Recommended Video
Dreading the Holidays? You Need This Cranberry Sauce Margarita.
Previous Venue
Next Venue
Venue Description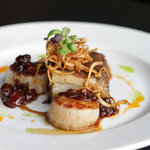 1. The Savoy
1408 N Milwaukee Ave, Chicago, IL 60622
At The Savoy you'll find a raw bar with East/West coast oysters, inventive seafood dishes, and pre-prohibition era cocktails. Also offered: a 40-strong list of absinthe, served either traditionally or in cocktails. Enjoy your evening filled with hallucinogens and aphrodisiacs!