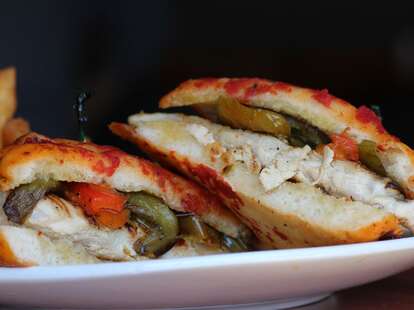 Old family pictures can do so much more than bring back old memories and cause arguments with your mother about why exactly dressing you up as Shirley Temple was necessary -- they can also inspire business ideas like Johnny Brown Bag, a casual Italian joint from the couple behind Via Carducci that takes its name from a childhood photo showing the owner brown baggin' it at his Calabrian elementary school
Make like the folks casting Full House and start off with a trio of sausages (boar, Italian, turkey) over garlic rapini, pea-studded arancini dipped in tomato sauce, or some fried tomato-basil panzerotti. From there, move on to Milanese-style breaded steak sammies, and an 8x8 mix-and-match lineup of pasta (tagliatelle, orecchiette) and sauces (carbonara, bolognese), plus thin-crust 'zas like the Milano, which unfortunately only comes topped with prosciutto and arugula in lieu of two biscuit cookies sandwiching an elegant, exquisite layer of decadent dark chocolate. And sometimes mint and stuff.
The good news is they're making up for the tragic Milano cookie deficit with housemade cannoli and tiramisu, ensuring that if your mother ever tries to spring that Shirley Temple get-up on you again, there's no way that sucker fits.