Remember that Wendy's "Where's the Beef?" lady? Well, pour out a little Zima as she's likely dead, which is a shame 'cause she'd totally find her answer at Bavette's Bar & Boeuf, the two-tiered steakery from the Maude's/Gilt Bar crew elegantly affixed with elaborate chandeliers, oversize red booths, Oriental rugs, and a bronze-cast pig's skull. Bovine options range from bone marrow-slathered bone-in ribeye, to short rib stroganoff (w/ caramelized creminis, hand-cut noodles & sherry cream), to odd bits like horseradish-kicked beef tongue, most commonly spoken by religious zealot cattle ranchers. Mix things up with multi-tiered seafood towers sporting king crab and fresh oysters, double-cut Berkshire pork chops, and Southern-style fried chicken with Crystal hot sauce & buttermilk ranch, leaving you way too large to ever be Hidden in a Valley. They also have a 50-plus whiskey selection making its way into everything from spicy pickleback shots, to mint juleps, to rye Old Fashioneds, which might even be older than that Wendy's lady. Though, again, she's almost definitely dead.
Recommended Video
This Blackberry Cocktail Is the Best Case for Making Your Own Jam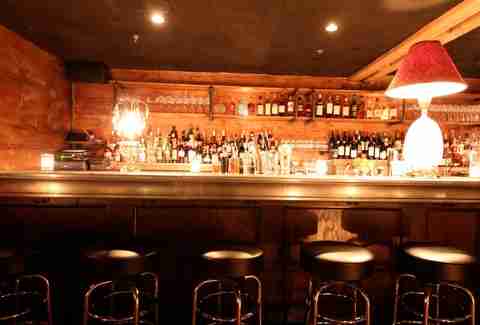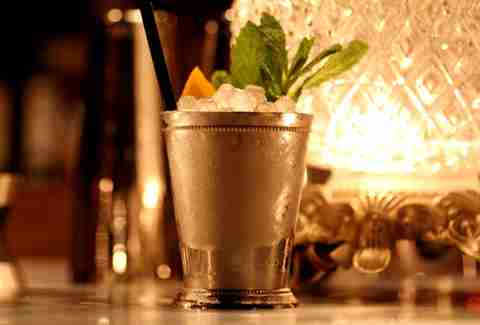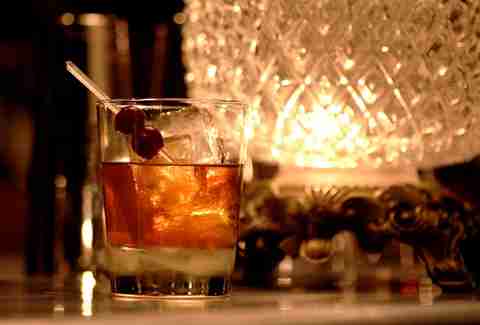 Previous Venue
Next Venue
Venue Description
1. Bavette's Bar & Boeuf
218 W Kinzie St, Chicago, IL 60654
More a promise than a clever name, Bavette's Bar & Boeuf unapologetically delivers an abundance of whiskey and slab-after-slab of expertly prepared meat. Bavette's 24 oz. bone-in ribeye may be the best piece of meat your money can buy in Chi-town, but, if steak's not your thing, they also offer fresh oysters, Southern-style fried chicken, and double-cut Berkshire pork chops. And because nothing goes together better than a rare steak and a fine whiskey, Bavette's offers more than 50 whiskeys to stir into classic cocktails like mint julips, rye Old Fashioneds, and modern alternatives like spicy picklebacks.