Get off your boat and feast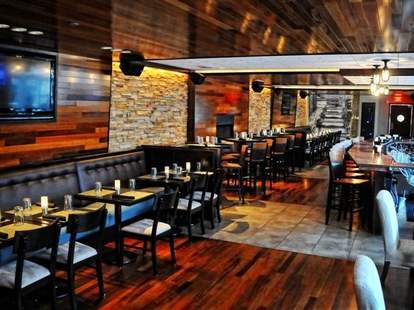 People often dream of cruising around on a boat, but being on one can make you feel like barfing, and even if you manage to kill Andy Samberg there's still seasickness. Break away from the boat and get down to dining and drinking, at Bridge House Tavern.
Setting up in the former Flatwater Grill space, BHT's a modern gastropub whose calling card's a two-tiered, 180-seat riverview terrace that overlooks 120ft of docking space directly accessible to the restaurant, so for once they'll want to be careful when the Pirates are in town. Chef'd by a Magnolia Cafe vet, the menu kicks off with Guinness & beer cheese soup with floating pretzel croutons, honey-and-jalapeno bacon fat popcorn, and celery root & Maytag slaw served alongside mini BBQ pork shanks called "Pig Wings", also a show in which really gross fat people run a small airport in Nantucket. Bigger options include whitefish tempura "fish sticks" w/ house tartar; center-cut prime pork rib rocking Neuske bacon mac 'n cheese; and Pernod butter-kicked whole lake trout, but not Laker trout, because who wants a washed-up Fisher?
Drinks-wise they're slinging 16 brews (Fat Tire, Hacker-Pschorr), a 32-bottle global wine list, and forthcoming cocktails including a special recipe Bloody backed with a 7oz Coronita bottle, perfect for Lazy Sundays, or drinking until watching it's tolerable.