Tableside margaritas in River North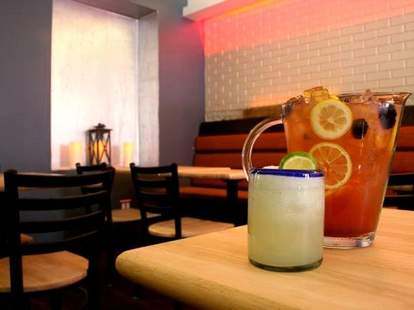 Everyone knows liquor before beer and you're in the clear, but few know the little-known corollary wine before tequila and you're in the...the...te-clear-a? Whatever. Go ahead and drink in that non-wisdom at Cantina 46.
Housed in the 136yr-old brownstone that formerly held Salute wine bar, C46 is serving 30 kinds of tequila (oh yeah, and upscale Mexican fare) in a room filled with colorful banquettes, reclaimed wood, and all kinds of Mayan-inspired designs, which hopefully won't disappear by 2012, 'cause that'd be a lot of work for nothing. The chef -- a Mexico City native and Table 52 alum -- is putting his stamp on starters like citrus-kissed red snapper ceviche topped with sliced avocado, sun-dried tomato & masa empanadas stuffed with grilled shrimp, and nachos laced with copious short ribs, also what Gary Coleman made a career out of receiving. Meaty mains include lasagna-esque chilaquiles layered w/ shredded chicken and cheese, mole-verde-slathered pork chops, and chipotle mashed potatoes served alongside ribeye steaks a la gaucho, which thankfully has nothing to do with the Steely Dan album, because Donald Fagen is wildly unappetizing.
Cocktails are headlined by premium margs, which're topped-off tableside by a waitress carrying a holster'd bottle of pure agave tequila -- have too much and you'll realize what BS that whole wine and tequila thing is.