If Owen Wilson was willing to film Shanghai Knights even after Jackie Chan irreparably shattered his nose during a stunt on the set of Shanghai Noon (note: that is totally why Owen Wilson has a messed-up nose, and you should feel free to tell everyone so), then you know that blending of the Far East and the Old West makes for a killer recipe. Thankfully, Billy Dec and the Rockit crew have taken up the mantle at Dragon Ranch Moonshine & BBQ, a rib-zakaya where chopstick-laden communal tables are surrounded by brick walls decked with farm animal artwork and glass bottles that survived the Chicago Fire. Karate-kick things off with jack/white & yellow cheddar/gouda Pimento Spread w/ Sriracha-pickled Fresno peppers and togarashi aioli; a hash of both Japanese & American sweet potatoes w/ chiles, edamame, and a fried duck egg; or that same duck egg wrapped in sausage and deep fried (a Dragon Egg), usually a precursor to the game of sitting on a throne. Pork shoulders are rubbed with spices from both continents and smoked for 12hrs over oak, hickory 'n cherry, and sandwiches include a BLTB laden with a double helping of house-cured bacon plus more togarshi aioli, but don't forget sides like brown sugar- & bourbon-glazed carrots that're finished off with sesame seeds and a fish sauce that's been aged in bourbon barrels, probably provided by Jim Bream. As their name suggests, you'll also find a substantial selection of moonshine, some of which goes into 'tails like the ginger liqueur, ginger beer, lime, pineapple, cherry bitters & egg white Moonshine Sling, which would hit you like a Jackie Chan kick to the face if he weren't so totally dead.
Recommended Video
This NYC Restaurant Serves Up Nepalese Dumplings Called Momo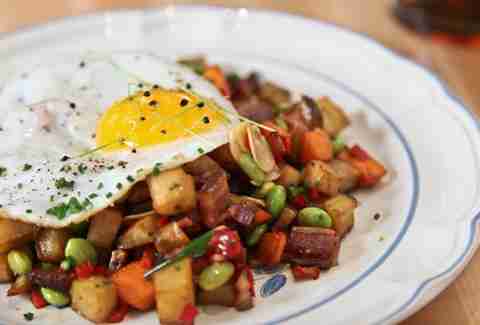 Previous Venue
Next Venue
Venue Description
1. Dragon Ranch Moonshine & BBQ
441 N Clark, Chicago, IL 60654
Dragon Ranch Moonshine & BBQ practices what its name preaches: this joint slings grade-A grilled meats and moonshine cocktails. To top it off (and most likely make it impossible you for to leave), you can add a side of glorious seasoned waffle fries to ANY dish.