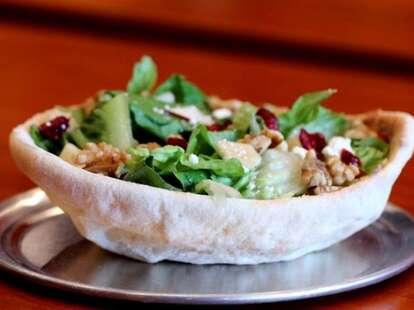 Although touted as "personal", pizzas have long only reflected the personalities of those who are mildly cheesy or total hams...or pepperonis. All that's about to change thanks to Pizza Persona, hatched by a pair of college buddies who're crafting pies using a Chipotle-esque assembly setup enabling more than 11 billion possible combinations, all of which can be fired off in a brick oven that finishes things in under four minutes, giving you both something in common when it comes to pie.
The process logically starts with a choice of dough (white, wheat, gluten-free), tossed-to-order and sauced with one of seven choices (pesto, ranch, spicy Thai...) before getting hit with cheese (fresh mozz, feta, ricotta), any of 18 gratis toppings (jalapenos, corn, pineapple), and premiums like bacon, anchovies, and roasted red peppers that can be added for a buck, though who wants to keep Joe on hand when he probably thinks deep-fried ravioli is better than pizza anyways?
For those whose personality would taste terrible, there're pre-conceived options like the Hipster (pesto w/ spinach, mushroom, banana peppers, and garlic), the Clubber (think Mr T club sandwich), and a garlic 'n olive oil mozz-feta-ricotta number called the White Collar, whose lack of red sauce oddly reduces laundering.
On the healthier side are salads (optionally un-healthied by being served in pizza dough bread bowls), and on the sugary tip are 6in dessert 'zas like the s'mores-style Camper, and the M&M and sprinkles Sweetie, though after your last performance, expecting her to give you that nickname might be a little premature.