An L20 vet sets up in the West Loop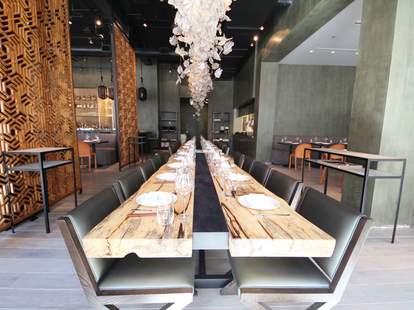 Not every childhood nickname is blessed with future restaurant potential (looking at you, former Bucs tackle Booger McFarland), but thankfully, better luck befell the chef from Embeya. His name, meaning "little one" in Vietnamese, is a reference to him being the youngest of 10 children, though none of the other ones manned the kitchens at Ria and L20, then found their way to shiny new 7000sqft digs luxuriously appointed with sea urchin-esque light fixtures, dark Indonesian wood tables, and gold-hammered glass. So there.
Asian-inspired small plates range from coldness like a green papaya salad studded with crispy shallots and beef jerky, to non-coldness like sea snails (w/ pork, lemongrass, and black garlic), or grilled squid stuffed with ginger, finger lime, and bone marrow, a pairing sure to get some... hereitcomes... ink. People that shop at the Big & Tall store but aren't actually tall can hit large portions of tamarind-/ toasted garlic-/ hoisin-glazed ribs or salmon roulade with caramelized onions, Vietnamese coriander leaf, and tomato fondue.
Drinkwise, they've got a heavily Belgian-focused beer program, while the vino selection carries an emphasis on Rieslings that may leave some notes of citrus on your nose, assuming it's free of any mini McFarlands.