A champion schools you in smoke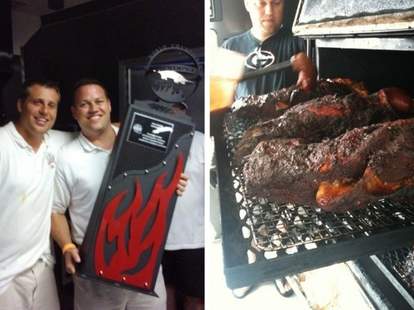 Homeschool: it can lead to more than drastically reduced dating pools and uncomfortable National Spelling Bee appearances, especially when chef Charlie McKenna of Lillie's Q brings his unimpeachable BBQ cred (five straight top 10 finishes, including a title, at Memphis in May = "damn") to your domicile for private classes, the one time smoking in school won't land you in the asst principal's office. Course options (all meat provided):
I Just Want to Impress My Dad: The Backyard Class entails up to 5hrs of instruction on whatever proteins you fancy (ribs, chicken, brisket...), with practical knowledge specifically tailored to your set-up, whether gas grill or Big Green Egg. He'll also bring some resto 'que to snack on while you wait out the big meal with up to five other friends, though Phoebe's a vegetarian so you can totally have her share!
I Want To Smoke... Other BBQers: Also coming with meatsnacks, the Competition Class is a meticulous all-day overview of every single comp-category from two major competitive circuits (Memphis BBQ Network, KC BBQ Society), with pointers on everything from equipment and timing to properly plating and presenting the finished product to the judges. You'll also cook your protein of choice to competition specifications, assuming you can shoulder that load.
I'm Really Competitive/Have Always Wanted to See Graceland: Purchase a spot on Charlie's Memphis in May team, where you'll get access to the competitors-only portion of the proceedings and hobnob with some of the biggest names, all while eating enough to become one of the biggest names in Q.
Mention Thrillist when booking, and the chef'll spring for beer. He's also offering up a gratis Backyard Package to one lucky winner, which is awfully moonifacent of him. Is that the right spelling? Someone call a homeschooled kid.