His Airness' opulent new meatery does a riff on a classic chicken 'n waffles combo dubbed "The Remedy", supplementing the blue corn-fried chicken with fried eggs, maple-glazed bacon, and bourbon-pecan butter, proving once again that playing basketball produces serious nut butter.
Recommended Video
These Onion Rings Are Stuffed With Cheeseburgers
Previous Venue
Next Venue
Venue Description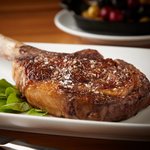 1. Michael Jordan's Steakhouse
505 N Michigan Ave, , IL 60611
What better place than River North's opulent InterContinental Hotel for His Airness himself, Michael Jordan, to stick an equally lavish steakhouse, complete with red leather (fit for a Chicago Bull) and gold trim motif, a fully loaded wine stash, and a menu fit for a king (uh, the king, if you're from these parts). As expected, you'll find filet mignon and prime ribeye as rare or as charred as you wants it, but you can also switch it up with Jordan's riff on chicken 'n waffles or go the healthy route with white soy seared tuna.