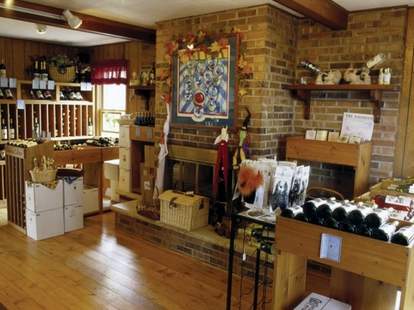 Assuming the hype about Sideways didn't leave you bent out of shape, head to Midwest Wine Trail Tours for a Napa-esque taste of IL, courtesy of a wedded oenophile/winemaker duo bent only on highlighting the choicest local vinos via two different day-long whirlwind vineyard tours. The options:
Lake Michigan Shore Wine TrailTabor Hill: One of the Midwest's oldest wineries, TH sports a massive tasting room, and's known for vignoles and ice wines, which thankfully don't just hang around calling you and Goose wine "dangerous". Domaine Berrien Cellars: This 80-acre lot specializes in Pinot Noirs and Cab Francs. Lemon Creek Winery: Known for its dry reds and German varietals, LCW allows visitors roaming their 155yr-old family farm to pick fresh fruit, though after a lot of wine, it can be difficult to kumquat. Free Run Cellars: More than a quarter-century of winemaking has led to their refined Rieslings and Gewurztraminers.
Illinois River Wine Trail August Hill Winery: This family-run operation's tasting room sports a sunny outdoor patio in the shadow of Starved Rock State Park, which's too proud to gravel for food. Illinois Sparkling Wine: As the name suggests, they model themselves on the vintners of Champagne. Illinois River Winery: The offerings from this 15yr-old concern run the gamut from dry reds, to ports, to full on dessert wines. Fox Valley Winery: With 25 acres of grape-producing might, Fox Valley makes hot chicks, or at least chicks that pass for hot after drinking their award-winning Rieslings.
Plus, you can opt to have 'em pack you a gourmet lunch, or just bring your own picnic, either way a necessity to ensure you don't get totally bent.