There's no point in wasting your time telling you that Baume & Brix gets its name from a pair of culinary scales (measuring the gravity of liquid and density of sugar, respectively), cause you'll be all "duh, I already KNEW that, I'm SOOO bored". So instead it's better just to skip to the part about the team of chefs from noted modernist food labs Moto and iNG setting up there to blow your palate's taste-mind in a space whose layout was inspired by a vintage map of Chicago, with natural wood and lofted ceilings surrounding the 200-plus seats. Start things off with a plate of Greek-style crispy pigs' tails sauced in mint/ yogurt/ cucumber with spicy peppadew peppers, or a vanilla-potato foam, parsnip-celeriac slaw-kicked "naked lobster": a raw crustacean that's completely de-shelled under high pressure, which, for you, typically causes problems after you're naked. Post-owning that nude lobster, hit some red curry braised short ribs with coconut congee, preserved lemon, and red pepper dashi, or, if you've got a crew (4-6) going, call 48hrs in advance and horrify Foghorn Leghorn with special preparations like a whole roasted capon (castrated rooster) that's been deboned (in more ways than one!), and served with fried heart 'n gizzards, truffled brown gravy, haricot verts & purple potato hash. Cocktails are equally inventive, like the Modern Manhattan made with Japanese Suntory whiskey, housemade vermouth, a Luxardo Maraschino ice cube, and sassafras bitters, which you were likely just about to point out are sourced from deciduous trees in the Lauraceae family native to Eastern North America...
Recommended Video
This Blackberry Cocktail Is the Best Case for Making Your Own Jam
Previous Venue
Next Venue
Venue Description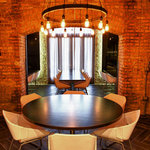 1. Baume & Brix
351 W Hubbard St, Chicago, IL 60654
Located in the Near North Side neighborhood, Baume & Brix offers unorthodox and creative take-offs on traditional American cuisine. And this game restaurant features baked-to-order cookies and milk. Of course, you'll be dunking into thai tea milk instead of the 2% variety.