While the influence of Brazilians is usually felt below the waistline, the chef behind La Sirena Clandestina (who spent time living there and Argentina) plans to increase your waistline himself. He's mixing Latin influences and local ingredients in a rough-edged, open-kitchened room adorned with floorboards taken from an Evanston church and 1940s Toledo chairs and stools for a look that can only be described as... wait for it... Holy Toledo! Start off with street eats like a rotating daily ceviche (with housemade "Saltines", or as they will be known when Nabisco's legal team reads this, housemade "something else other than Saltines"), charred baby octopus escabeche w/ peppers, olives & tomato confit, and black-eyed pea fritters w/ pickled onions and dende-poached shrimp. Then move on to pork loin Milanesa w/ wild mushroom ragu and a fried duck egg, or grilled specialties like a mustard cream-slathered skewered rabbit, which used to come courtesy of Papa Doc until everyone found out he went to Cranbrook (that's a private school!). The cocktail list is deep on Latin spirits like a south-of-the-border interpretation of the Smoking Gun with Mezcal, amaro & lime called the "Pistola Humeante" that's so good, it'll have you ripping out your own hair just to get it.
Recommended Video
Meat Flowers Are Here to Give You The Best Valentine's Day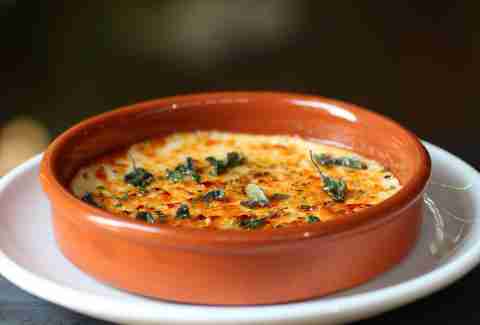 Previous Venue
Next Venue
Venue Description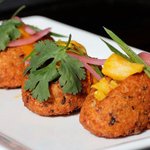 1. La Sirena Clandestina
954 W Fulton Market, Chicago, IL 60607
La Sirena Clandestina in Fulton Market combines bright, coastal Brazilian fare with a dark, sexy atmosphere suitable for the date you've thus far struggled to impress. The chocolate-brown wooden tables are littered both with teeny glistening candles and cocktails, like the Bikini Weather (coconut, passion fruit, and tequila), which, by the way, are robust and beach party-worthy. As for food, the menu is a mix of small and large plates, unified by an emphasis on Brazilian meat and seafood tastes, like head-on prawns or ceviche. Share the tres leches for a sweet end to the evening.