El Salvador and Mexico step onto a truck...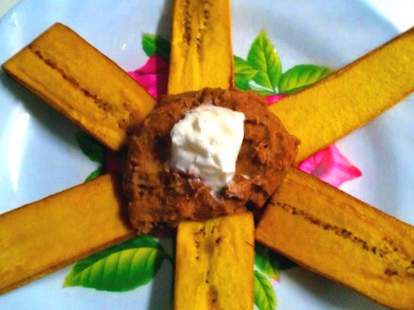 Especially since they killed the Invisible Swordsman, Three Amigos has nothing on Dos Paisanos, a new truck from Javier Bernal, who's drawn on his vast experience (worked his way up from 16yr-old line cook to Abuelo's lead caterer; went mobile on Jack's Chowhound and Nammi) and his mother's and grandmother's Salvadoran recipes to create a menu that's part Salvadoran, part Mexican, and part "why not have both?". What's happening:
Breakfast: Grab platters like La Americana (ham or bacon, pancakes, scrambled eggs, TX toast) and the Paisano (scrambleds, fried plantains, refried beans, Spanish breakfast pastry), or wolf down the eggs/pico/fajita/potato/cheese burrito known as El Mexicano, which of course is Spanish for a movie starring Señor Brad Pitt and Señorita Hoolia Roberts.
Salvadoran: Try a Pupusa Platter (one each of pork/bean/cheese topped with curtido, a slaw loosely like kimchi), chicken-/potato-stuffed tamales ("thicker than the ones around here"), and ground beef/potato meat pies called pastelitos (for an even bolder flavor, try the neonlitos).
Mexicanish + Americanish: Curtido Salvador's up standbys like burritos, tacos al carbon, and carne asada. Then there's a mozz, bacon, and spicy mayo beef slider called the Vcho, or "little one" -- so, why not have 12?