Three cities worth of mobile munchies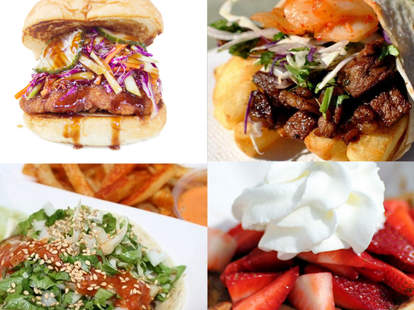 The first annual TX Food Truck Fest descends upon Valley View Center next Fri-Sat, when a convoy of ATX's finest will roll up I-35 to join Dallas staples like Jack's Chowhound and Cajun Tailgators and Ft. Worthians including Jo Dawgs and Wiener Man, who like Iron Man is all about the protective suit. Here, we've used our Austin intel to suss out some prime Capital entries:
Yume Burger: What do you get when you cross a burger with "Japajam"? Definitely not the Rising Sun version of Jock Jams, though that would be awesome.
Get the juicy fusion details right here
Belgian Waffle Company: A Michelin-starred restaurateur tweaks a centuries-old royal family recipe and comes up with something even tastier than Pippa's bum.
Hot, steamy waffle pics right here -- byo dwarfs
Chi'Lantro BBQ: 3000yrs of tradition inform a Korean-Mexican marriage so strong, not even a seemingly suicidal plan to develop long-range nuclear missiles could break it up.
Speaking of missiles, burritos are involved. Find out how.
The event will also mark the debut of Ft. Worth's molecular-gastronomical The Fat Truck, which'll employ sous vide and propane torches to bring you everything from liquid nitrogen'd serrano ham to carnitas-stuffed steamed buns. Insert Wiener Man joke at own risk.