If all Phillies were this good, they'd be in first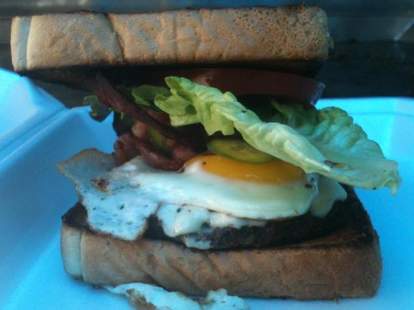 In the Navy, you can find pleasure, search the world for treasure, learn science, technology, and discover global cuisine, but you can also find yourself appreciating the merits of home, as did the Free Wheel'n Cafe food truck's Floyd Freeman. The son and grandson of caterers, Freeman helped run several area cheesesteakeries (DeSoto Philly & Fred's Downtown Philly Plano) and oversaw kitchen duties at Crayton's before launching an operation at once mobile, and rooted in his West Philly upbringing. What he'll be serving when he hits the road tomorrow:
Cheesesteaks: He's got a quartet of rib eye & provolone/whiz/American white-loaded monsters like the traditional Philly (onion), the Market Street (shaved chicken & onion), the Wildcat (onion & 'shrooms), and the suitably messy, Italian pepper & pizza sauce 69th Street, whose residents are tired of being the butt of the joke.
Burgers: Stuff your face with the Ojos Locos (pepper jack, fried jalapeno, jalapeno cream cheese), the Cowboy (cheese/bac/'peno), the Texas Toast Big Texan (topped w/ brisket, BBQ sauce & red onion), and, with serrano pepper sauce, p-jack, bacon & a fried egg, The Hangover, because the best way to distract from a headache is chest pains.
If you catch him early in the day, he's running breakfastings including French Texas Toast stuffed with strawberries, pecans, walnuts and bananas, so tantalizing you can practically hear it singing "I want you, I want you, I want you to take down this food".