NYC concern drives to Dallas bearing pastrami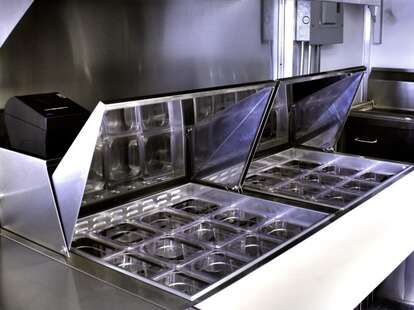 If you're gonna add a new dimension to your business, go balls-out, like Jerry did with his colossal testament to man's greatness and folly prime investment opportunity for the city of Arlington? Fully investing in trucks and Texas, The Gandolfo's NY Deli Food Truck, aiming to launch Tuesday.
Having purchased a taxi-themed, purpose-built truck in Miami and driven it all the way to Dallas, the NYC deli's entering the TX market armed with a feast-beast whose industrial-grade kitchen even includes the same $3,500 fire-suppression system you'd find in a resto -- the idea being to "push the roach coach mentality out", which is totally going to screw up Manny Pacquiao. They'll be pumping out breakfasts like the Queens (roast beef, egg, steak sauce on a bagel), the Eastport (pastrami, two eggs, American on a Kaiser), and the Chaz, with turkey, Swiss, and avocado, though it's considering an operation that'll add a pair of grapes. Lunchers'll include the eponymous Gandolfo (turkey, cheddar, marinated 'shrooms, mayo, oil & vinegar), the Madison Square Garden (cucumber, 'shrooms, green pepper, onion, avocado, mayo, spicy mustard, o & v) and the sourdough Eastside Egg Salad, identical in contour and separated only by a courtesy bay from the Westside Egg Salad.
They also feature 1/4lb Nathan's hot dogs and deli salads like the many-meated Little Italy and the Big Tuna, also another balls-out Jerry move that left Dallas fans invested in the greatness and folly of Quincy CarterDrew Bledsoe Tony Romo.